Hey, good lookin'! Happy Thursday!
So, it's officially summer now. For you that might mean lounging by the pool, a cool drink in your hand—or maybe on the beach, stretched out on the sand, watching the waves and working on your tan. If that's you, then you should really check out this giveaway my friend Vania has going on right now. Because what day at the beach is complete without an awesome book to read? Plus, she's got your towel and your cooler, and a lot of other goodies coming your way, too.
My summer looks a little different, though. I don't exactly enjoy the heat, no matter the amount of sea-salty air or the blonde streaks the sun might leave in hair or the…well, you get my drift. My summers are spent giving thanks for the invention of air conditioning and calculating the coolest time for me to take the trash out and watching the forecast for summer storms to roll in. And books and writing.
The other indication of summer is that we've gone through yet another quarter. So, it's time for me to look back at the goals I laid out at the end of last quarter and wallow at my failures for a moment and then make a list of things for me fail at accomplish during this quarter.
In order for me to feel I accomplished enough stuff last quarter, I want to accomplish 8 out my 10 goals, otherwise it's a big ol' no-sirree. There's no point in waiting. Let's get this show started.
1.| Tweak and reprint the business cards.
I did this! I love, love, love the design now. Unfortunately the printing service used a dull blade to cut my cards, and since they're super thick ones, this did damage the backs of about half the cards I was sent. So even though it isn't perfect, this wasn't my fault, therefore, this is a win for me!
2.| Reach 80,000 words in Alabama Rain.
Hang onto your hats, my friends, because for the first time since I started this freakin' manuscript…I HIT MY WORD COUNT GOAL. Now, to be fair, I sort of thought this would be the end-point of the book but once I got here, I realized it wasn't the end, so I still have about 10-15k words I want to write (which, of course, may be edited down) so I'm still going to go with this one as a win because I did hit the mark…the finish line just moved.
3.| Form a solid book launch sequence/plan.
Yep. I got this going on, too. Some outside forces are altering it a little, but it isn't altering my existing plan so much as it is adding to it, so I'm still saying this is a win.
Holy crap. THREE IN A ROW.
4.| Send three newsletters.
But not four. So, I did not do this because I didn't really pay very close attention to the whole new privacy thing and I sort of lost my newsletter. I will start this back up at some point, but for right now, the newsletter is on the back-burner. Fail, fail, fail.
5.| Keep up with the blogging schedule.
Oh, I totally did this. Sure, I was a day late with one post, but I am still super proud of my grip on this whole blogging thing.
6.| Finalize Alabama Rain's cover.
Yes…so, I am going to give myself a win for this one. Because the paperback cover is a-go. However, the husband convinced me to also do a hardback for this book, and I haven't gotten the whole dust jacket done. But, since hardbacks weren't in the plan when I set this goal, I did technically do the thing I set out to do.
7.| Utilize Instagram 3x per week.
Haha, no. I am still really bad at the 'gram.
8.| Host a giveaway.
Yep! This was a total win. My giveaway for a year of ProWritingAid was a resounding success!
9.| Update the website at least once per month.
Done!
10.| Explore three ways of increasing sales of SLT & SLF.
I've explored. I haven't implemented them all just yet, but I have explored and experimented, so again, I feel this was a win even if everything wasn't a total success.
So, let's see…add the 2 and carry the 9…divide the 7…and subtract 1…what's the square root of pi? Um…something must be amiss…
No.
Wait.
What?
Did I?
I did!

Now that I've patted myself on the back, it's time to make this quarter's list of goals. Because, as I'm sure you've heard the saying, there is no rest for the weary.
And who is more weary than a writer?
Or is the saying no rest for the wicked? Either way, it fits, right?
My Q3 Goals, in no particular order:
1.| Design bookmarks and other swag for Alabama Rain.
2.| Speak with at least one local bookstore about carrying my work.
3.| Finalize SLT's novelette prequel and order copies.
4.| Launch Alabama Rain.
5.| Attend the All About The Indies event.
6.| Outline and write 10,000 words of Underthings.
7.| Catch up on reading and reviewing my tribe's work.
8.| Review two books on the blog.
9.| Find and secure at least one author event for the fall/winter.
10.| Make self-care an indisputable priority at least once per week.
I hope your goals, however you make them, are coming along swimmingly. I'm not going to lie, I always get nervous as heck to share mine publicly, even more nervous when it comes time to share how well, or poorly, I've done. This public accountability thing, though, does seem to give me the extra kick in the pants I need to get things done.
If you'd like to share some of your own goals with me, I'm always delighted for you to use that little comment box below.
See you soon, my lovelies. ♥♥♥♥
---
P.S. One more thing. If your goals include improving your writing or learning more about how to create or build upon your author platform, or to strengthen your business acumen, I encourage you to check out the following websites. I use them frequently, and I couldn't recommend them more highly.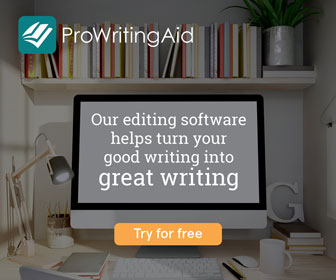 I've been writing with ProWritingAid for a couple of years now, and I can't imagine a time when I'll ever want to write without it. It's so simple to use, but more powerful than I ever imagined.
If you've been spurned by other grammar checkers, give PWA a try. They don't just tell you how to fix a mistake. They teach you how not to make it again.
---

Skillshare is a great place to hone your skills or learn new ones.
Whether you want to learn how to outline your next best-seller, create a website, how to manage your finances, or how to make creme brulee—they've got a class for you.
I am super glad they're a part of my toolkit.
*Afflinks*

Afflinks do not in any way alter the cost of goods or services to you. Using them does, however, provide a small commission to me. I will never promote goods or services I do not use myself or that I cannot wholeheartedly recommend.
---